Maintenance Contracts
Maintenance Contracts
In cases of emergencies, vehicle users carry auto insurance for protection; what's available for air compressor users…?
Prevention is better than treatment. Having regular maintenance performed by professional engineers is crucial to the pre-emptive detection of deteriorating parts and analyzing the machine's condition. Parts are replaced more promptly, and failure rates are reduced. This mitigates the serious losses caused by machine downtime. Therefore, signing a maintenance contract is like buying insurance for an air compressor. Ensuring that an air compressor runs smoothly now will help save more later.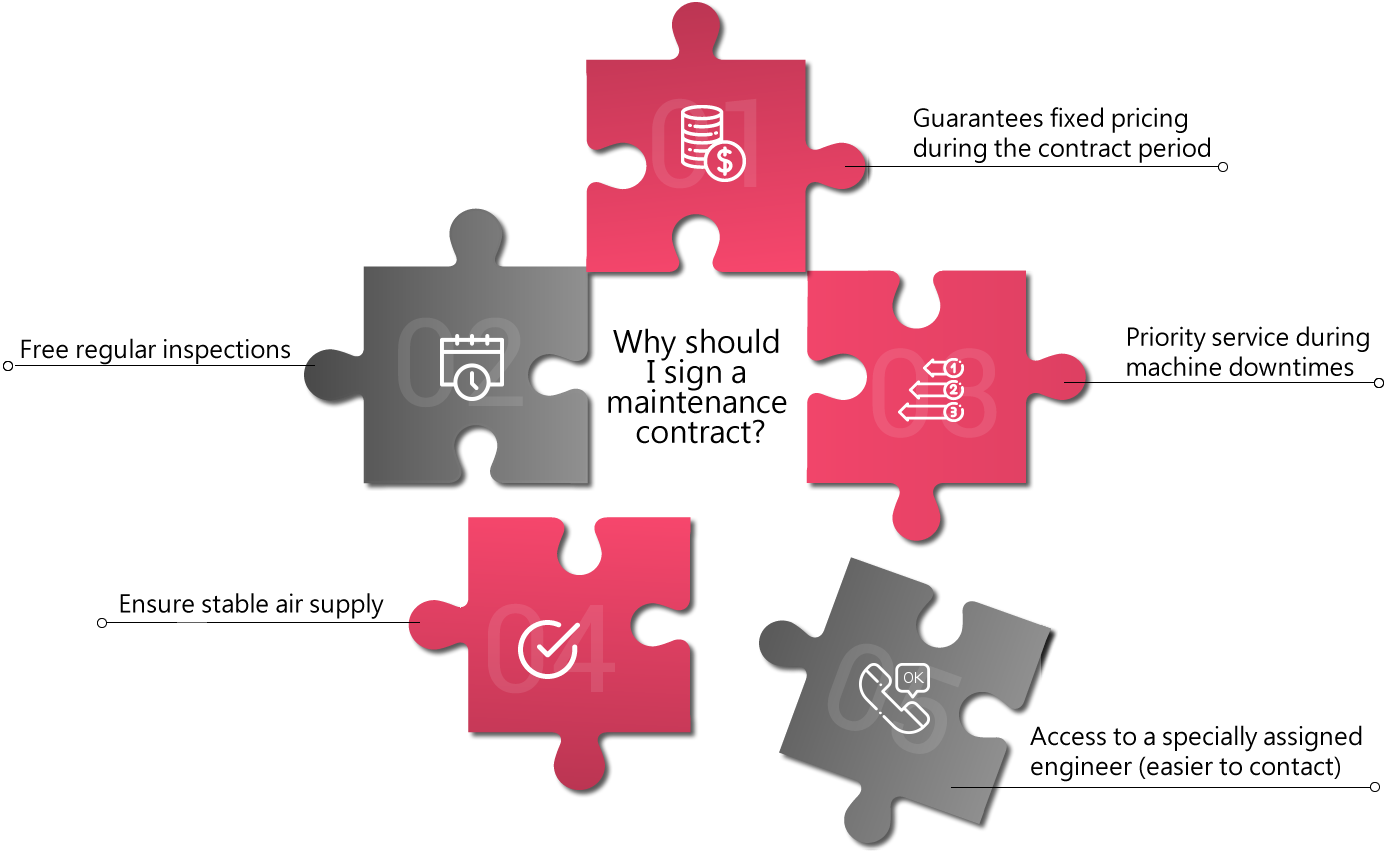 01
Features of our comprehensive air compressor maintenance plan
Safety items – mechanical and electrical warning systems.
Quality – for products and for after-sales services.
Cleaning and lubrication.
Regular parts replacements.
02
Advantages associated with signing our maintenance contract:
Offers priority service rights (shortened maintenance times and meets immediate needs).
Use of original factory parts and warranty
Use of certified oil products
Specialized service (professionally trained and certified technicians, and equipment).
Eliminate administrative procedures from diagnostics quotes, bargaining, and meeting consensus, to tracking necessary parts, all of which will significantly shorten the period of machine downtime.
Signing a maintenance contract is like buying insurance for the compressor (and transferring the associated risks of damage to Fusheng Service). Problems that emerge due to machine failure will be well taken care of and unexpected out of budget costs can be avoided.
Repair time management: allowing maintenance budgets to be more conveniently controlled.
Access to regular inspection and maintenance by professional engineers. By having ongoing status updates on our clients' compressor statuses, Fusheng engineers are able to shorten repair times and meet immediate needs.
Spare parts preparation and education training arrangements.
Fixed prices and cost transparency (The price will not increase during the contract period).
03
Why should I sign a maintenance contract?
Guarantees fixed pricing during the contract period
Priority service during machine downtimes
Access to a specially assigned engineer (easier to contact)
Ensure stable air supply
Free regular inspections